Niskayuna Friends of Music Summer Music Program
July 25-29, 2022: Grade 6-8 students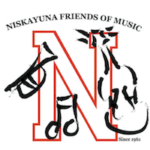 Summer Sonata is a one-week music program designed for students entering grades 6-8 in the fall, who are already members of the Band, Choir, or Orchestra program. This exciting opportunity is for students who enjoy music and wish to continue developing their musical skills during the summer with Nisky Music Faculty!
Students will have the opportunity to perform with others in person and take a music appreciation class. We look forward to welcoming middle school students back for some fun and enrichment! (If necessary, based on school district recommendations, safety protocols including playing and singing with masks and instrument bell covers will be in place.)
Summer Sonata will be conducted Monday – Friday, 8:00AM – 12:00PM in the music suite at Niskayuna High School. The program registration fee is $150 and includes a Summer Sonata t-shirt!
Please complete the linked registration (below) and return it to the District Music Office no later than Friday, June 24th. Space is limited and registrations will be accepted on a first-come first-served basis.
Sample Daily Schedule
8:00 – 8:30 All-camp choir
8:40 – 9:10 Ensemble rehearsal
9:20 – 9:50 Music Appreciation Class
10:00 -10:30 Ensemble rehearsal
10:30-11:00 Snack
11:00-11:30 World drumming
11:30-12:00 Music Games