Dear Niskayuna Friends of Music,
We hope this update finds you and your family well. We wanted to let you know what Friends of Music has been up to over this first quarter. We have continued to meet regularly over Zoom, to ensure Niskayuna music feels supported through this pandemic. Friends of Music is providing each elementary school student with a bag to ensure their music supplies stay separated. This has also been helpful in providing virtual students with supplies. We were also excited to provide our high school musicians with masks to make sure they stay safe during rehearsals. This is especially important for some of our band students who require special masks due to their instruments. Now, we look forward to hearing from the middle school music teachers on how we are able to help them.
We would like to thank the Department of Music for all of their hard work during this difficult time. Even though we are certain teaching music during a pandemic is very challenging, the staff has been patient, enthusiastic and they have definitely met this challenge. We know music education is especially important for students during a stressful day, so please realize how much we appreciate your commitment to our students.
We will continue to keep you updated. Please feel free to reach out to us should you have any questions.
With warmest wishes,
Sarah Spindler
Vice President, Friends of Music
The Key to Local Music Resources
The Key is a guide to musical resources in our community. It includes a list of local music teachers as well as music stores that cater to the needs of music students. Here is the online copy of The Key 
GE Foundation
Matching Gifts Program
FOM has joined the list of charitable institutions that are supported by the GE Foundation Matching Gifts Program. Through this program, individual contributions of $25 or more from employees and/or retirees are matched dollar for dollar. Eligible gifts may be registered online on our membership page or by phone at 1-800-305-0669.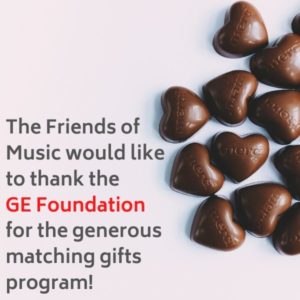 ~ Community Sponsors 2019-2020 ~
Niskayuna PBA
Audiologic Solutions
DeLuke Orthodontics
Molino & Vaccaro Dentistry
Albany Med EmUrgentCare
Dance Me
Deb Best Practices
Dynamic Fitness
Felthousen's Florist & Greenhouse
Frank & Sons Body Works
GoatCloud Communications LLC
Hermes Music Store
Hoskinson Orthodontics
Howard Hanna-Brenda Ziegler
Lavelle & Finn
Mario's Barber Shop
Marty's True Value Paint & Hardware
River Road Animal Hospital
Segel Violins
The Costumer
Thank you for your support!
Become A Community Sponsor
We are inviting parents and other members of the community to participate as a Community Sponsor with an ad for your business or profession. This advertisement will be in our Notes newsletters and distributed at all of our 25 concerts. Your business or profession will also be acknowledged as a Community Sponsor on our website for the whole school year.
A minimum donation of $75 required in order to place an add in Notes Newsletter and the FOM website.
For more information, please contact us through the District Music Office located at Niskayuna High School: 382-2511, Ext. 21710 or by EMAIL. Thank you.
---