Dear Friends of Music Members;
I wanted to take a minute and let you know that you have been in my thoughts and heart during this time. I also wanted to give you some updates about what is happening with Friends of Music right now.
The Friends of Music Board of Directors has been in contact with each other via Zoom, and text throughout the last 5 weeks and we have had one virtual directors meeting. We have had to make some difficult decisions. For the sake of transparency, I am sharing them with all of you.
We are suspending our April and May meetings as of now. We have chosen to not hold them, even virtually, due to worries about overwhelming everyone.
We are not able to hold auditions for or summer scholarships at this time. We, as a board, are so sorry that we are not able to do so. This has been such a tradition for us. We look forward to being able to do it in the future. In lieu of not having summer scholarships, we are increasing our senior scholarships awards to include more seniors.
We are in discussion with the music faculty about changing the function and timing of our Summer Sonata program with the hope that it will support our student musicians more effectively after the amount of time missed in music class, choral, orchestra, and band. We have made no solid plans about this change at this time. We wanted to let you know that we are working to meet the needs of our members, students, and faculty.
We will keep you posted as we work to balance a budget for next year. We will keep you all in our thoughts.
Take wonderful care of yourself, and don't hesitate to reach out to us should you have any questions.
My regards
Jodi Rossman
President of Friends of Music
The Key to Local Music Resources
The Key is a guide to musical resources in our community. It includes a list of local music teachers as well as music stores that cater to the needs of music students. Here is the online copy of The Key 
GE Foundation
Matching Gifts Program
FOM has joined the list of charitable institutions that are supported by the GE Foundation Matching Gifts Program. Through this program, individual contributions of $25 or more from employees and/or retirees are matched dollar for dollar. Eligible gifts may be registered online on our membership page or by phone at 1-800-305-0669.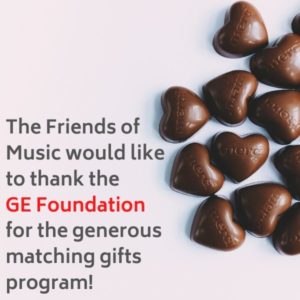 ~ Community Sponsors 2019-2020 ~
Niskayuna PBA
Audiologic Solutions
DeLuke Orthodontics
Molino & Vaccaro Dentistry
Albany Med EmUrgentCare
Dance Me
Deb Best Practices
Dynamic Fitness
Felthousen's Florist & Greenhouse
Frank & Sons Body Works
GoatCloud Communications LLC
Hermes Music Store
Hoskinson Orthodontics
Howard Hanna-Brenda Ziegler
Lavelle & Finn
Mario's Barber Shop
Marty's True Value Paint & Hardware
River Road Animal Hospital
Segel Violins
The Costumer
Thank you for your support!
Become A Community Sponsor
We are inviting parents and other members of the community to participate as a Community Sponsor with an ad for your business or profession. This advertisement will be in our Notes newsletters and distributed at all of our 25 concerts. Your business or profession will also be acknowledged as a Community Sponsor on our website for the whole school year.
A minimum donation of $75 required in order to place an add in Notes Newsletter and the FOM website.
For more information, please contact us through the District Music Office located at Niskayuna High School: 382-2511, Ext. 21710 or by EMAIL. Thank you.
---